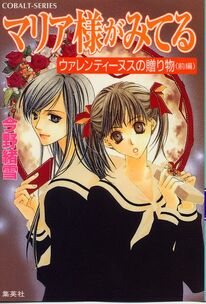 For Valentine's Day, the Lillian Newspaper Club organizes a treasure hunt in which the winners would get half-day dates with the en boutons. Yumi agonizes over what to get Sachiko for Valentine's Day, resulting in a spectacular misunderstanding between the two of them.
This book covers episodes 7 and 8 of Season 1.
Recap from beginning to end the events of the novel.
Featured Episodes
Edit
Was the anime faithful to the novel? Were there differences?
Illustrations
Edit
Okazu Notes
Edit
Ad blocker interference detected!
Wikia is a free-to-use site that makes money from advertising. We have a modified experience for viewers using ad blockers

Wikia is not accessible if you've made further modifications. Remove the custom ad blocker rule(s) and the page will load as expected.