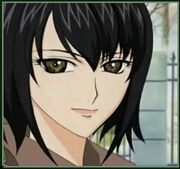 n it is shown that she has also found an interest in Sei's petite sœur, Shimako. She left Lillian at the end of her second year to pursue a singing career in Italy, and keeps in touch with Shimako as a penfriend.
In the side story of the nineteenth novel, Shizuka's past is probed - she had a rather gray and lackluster mentality during her first and earlier parts of her second year. As a popular first-year, she received sœur requests from many upperclassmen, but rejected them all (including her choir club president), because she knows she will leave Lillian for Italy soon, and that her heart only longs for Sei. She likened herself as the The Little Match Girl, albeit being unable to quench her desire and longing for Sei. The short story revolved around her coming to terms with herself and her resolve in overcoming her inability to approach Sei face-to-face (and thus building up the explanation for her somewhat bold move in taking part in the Yamayuri Council Elections, just to be able to stand in front of and be acknowledged by Sei).
Background
Edit
Personality
Edit
She is mysterious, very quiet, hard to read and aloof but she is gentle. Her only interest is Sei
Appearance
Edit
Shizuka is a very beautiful young woman. She has short black hair, green-brown eyes and very fair and pale skin.
Relationships
Edit