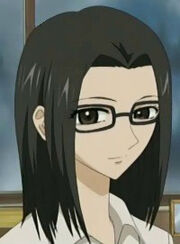 Sei Sato's friend and course-mate at Lillian University. She is first seen as the girl who rescued Yumi from the rain along with Sei. Sei mentions that she stood up during the welcoming ceremony when Kei was called because she thought she had heard her own name.
Background
Edit
Personality
Edit
Relationships
Edit
Ad blocker interference detected!
Wikia is a free-to-use site that makes money from advertising. We have a modified experience for viewers using ad blockers

Wikia is not accessible if you've made further modifications. Remove the custom ad blocker rule(s) and the page will load as expected.